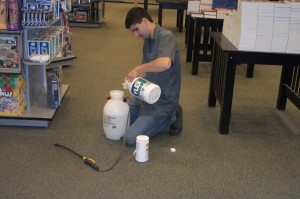 When your pet has an accident on the carpet or someone has a spill it can be stressful enough, but choosing a "professional carpet cleaner" that best fits your needs can be more taxing.   There are a few factors that should be considered when making your final decision.   Having cleaned carpets in the Mountaintop PA, Berwick PA and Hazleton PA areas for 24 years, I highly recommend the following 5 steps for choosing a Professional Carpet Cleaning Company should be taken into consideration.     
Narrowing Down the Field – first consult your warranty documents whether it's upholstery or carpets.

  

The information provided by the manufacturer not only includes specific instructions for approved cleaning methods but most warranties now specify the certifications your cleaning company should possess.

  

Not following these guidelines may void your warranty.

Look for an "IICRC" or "The Clean Trust" certified firm – when doing your research.

 

 

Companies like Services Etcetera Professional Carpet & Upholstery Cleaning and bearing these certifications are required to update their training regularly, adhere to a code of ethics and are usually the carpet mill's preferred choice to handle warranty claims.

Ask your Prospects – where they are located and if they are a franchise or chain operation.

  

Shopping locally, within 20-30 miles, will provide you more accurate references and better your chances at finding someone who wants a relationship rather than just another sale.

  

Remember, the handsome and knowledgeable serviceman in the TV commercial is not the person showing up at your door.

Ask about a Guarantee – a reputable business either offers one with conditions or they won't offer one at all.

  

Beware of the guy who promises the world because there is no magic wand and a true professional will usually under promise and try exceed your expectations.

Word of Mouth Referrals – are an excellent source of information, ask a relative, friend or colleague.

  

Ask the company you call to provide the references; maybe they have a customer who had a situation similar to yours.

  

Having worked in the cleaning industry for over 23 years I maintain a file of report cards, pictures and other testimonials from my customers.
   After making your choice it's a good idea to address your expectation up front to avoid any misunderstandings.   But the five questions you should be asking before you hire a carpet and upholstery cleaner are what does my warranty say, what certifications do they have, are they local, is there a guarantee and do they have references?