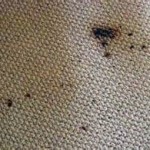 Nice weather brings pothole patching, driveway paving and crack sealing to a peak here in the Pocono Mountains of Northeastern PA.   Once again residents have to deal with fresh tar being tracked into their homes and onto the carpet.   A few simple household items can help clean up the mess.
Tar is a sticky subject and can be very tricky to remove.   Usually a dry cleaning solvent such as mineral spirits or denatured alcohol can be used to break down the mess.  There are also some citrus based spotting agents available that can do the job too.
Always pre test any cleaning solution in an inconspicuous place and consult your manufacturer's warranty first.    Never pour cleaning agents directly onto your rug and follow the directions.
Apply some of the spot cleaner onto a white towel.
Start from the outside edge and work the spot inward, don't rub, blot the spot.
Continue blotting until you no longer have any transfer of the spot into your towel.
Rinse the area clean of any residues with clean water and blot dry.
Watch a short helpful video entitled "How to Remove Tar, Grease and Oil Based Spots from Carpet" at http://www.youtube.com/watch?v=ianN1VKReUc.
Your IICRC/Clean Trust certified carpet cleaner carries a professional line of dry spotting and other effective carpet cleaning solutions. Services Etcetera Carpet & Upholstery Cleaning, Hazleton PA's first IICRC certified firm, can be contacted at http://www.procleaner.biz or info@procleaner.biz.