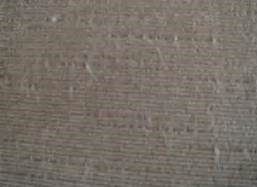 Fuzzy looking balls that appear on the surface of fabric upholstery are a condition known as "pilling".   Pilling can happen to the most expensive fabric as well as the cheapest.   Usually pilling cannot be cleaned away but may be the result of improper cleaning along with other factors.   Have no fear though, there is a way to fix the problem and spruce up the appearance of your furniture.
Most mass produced fabrics and textiles are woven on mechanical looms where individual yarns are intertwined horizontally and vertically.  One set of yarns are called the "Weft" and one set are called the "Warp".   Normally the weft yarns are a set of threads running a pattern through the warp yarns.   Pilling usually occurs when tightly strung warp yarns snap and twist into knots.    Breakage of these yarns may not be noticeable except for the pilling but certain weaves may reveal inconsistencies.  
Although carpet and upholstery cleaners may not be able to clean these little "pills" away, a true professional can easily remove them using an electric barber's shears.   When attempting this procedure it is important to always first pre-test in an inconspicuous location.   Simply shave across the surface of the problem area moving slowly and checking that more damage is not being created.   There are some "DIY" pill removers for clothing and furniture on the market; however they may not be readily available or aggressive enough to tackle the job.   A fresh and clean set of electric trimmers can efficiently and effectively be used while reducing damage from pulling and snagging.
Again, pilling is usually not correct by cleaning or washing.   I highly advise that you DO NOT remove cushion covers and place them in a washing machine as some other methods suggest.   Seat cushions may shrink and distort.   When washed separate the cushions might not match or may look cleaner than the other components of the furniture.
When deciding which fabric is the best choice for your home or office in Northeast Pennsylvania, consult the experts at Fierros Fine Furniture of Hazleton, www.http://fierrofurniturestore.com.      When considering hiring a "Certified IICRC Upholstery Cleaner", request a free estimate by email from Services Etcetera Carpet & Upholstery Cleaning.