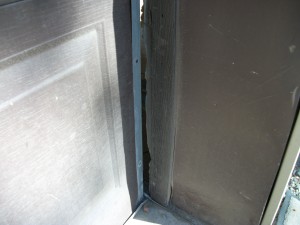 With winter weather quickly approaching time is a valuable commodity right now.   While making considerations for your winterization budget, many big ticket items in your home are often overlooked.   The largest item would be the health of you and your family.  A few simple adjustments, preventative measures and small "DIY" repairs can promote healthy living and save on utility bills as well as preventing damage to much larger investments in your home.   These investments include, but are not limited to carpet, laminate flooring and wool area rugs.   Now you might be thinking; what do garage door seals have to do with the condition of my health or my home's interior and its contents?
The answer is air flow.   By many accounts the air inside your home is three to five times more toxic than outside air.   That's because air flow carried toxins in from the outside and deposited them into your home where they are now nested deep inside places that a normal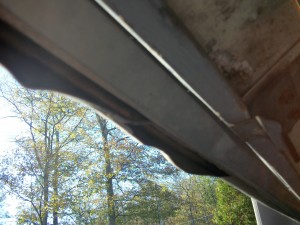 housecleaning can't reach.   Closing up your home for winter traps in these pollutants, germs and bacteria and can trigger allergies and illness.   This same air flow chilled by winter winds brings in harsh abrasives such as ice melt and rodents and also causes structural damage.
Garage door seals, when you think about it, tally up to over twenty five linear feet of potential air infiltration points per door. In plain English, that's a lot of space for cold dirty air to enter your residence. Checking to see that the rails for the door itself are properly adjusted and positioned could be a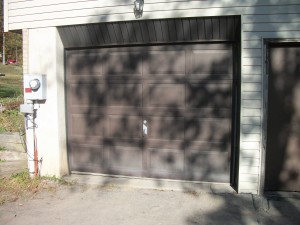 quick fix and making sure the seals are in good repair will save you many future headaches.  Living here in Northeast Pennsylvania, many towns like Hazleton, Mountain Top and White Haven, experience harsh winters, where busted and frozen water pipes cause an unfortunate amount of damage.   Heating bills can easily skyrocket if insulation and air flow are not carefully considered.
Most seals for garage doors are standard and can be readily purchased at your local hardware store.   I purchased mine at Lowes Home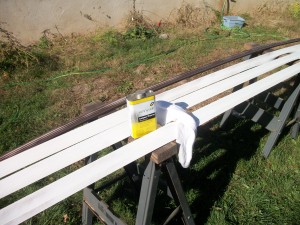 Improvement.   Remove the existing seals and clean off any dirt and caulking from the previous installation.   The side and top seals can be painted to match or meet any color scheme and easily tack onto the exterior of the door frame.   Running a bead of silicone sealer along the edge will keep out any moisture.   Foam and rubber molding for the bottom dust seal come in standard sizes too and are usually packed in rolls of various lengths.   You may need to loosen a bolt or two, but the old seal slides out of its grooves, the new seal folds into a "U" shape and the seal then slides back into the grooves of the bottom track.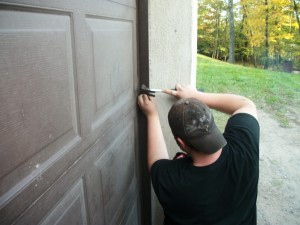 There are many more quick, easy and cost effective tasks you can do to minimize the impact of winter on your house, in a short amount of time. Take simple walk around the exterior of your and home and look for other air entry points.  Look around pipes, windows, dryer vents and other hardware entering the structure and pack the gaps with putty, insulation, caulking or silicone.
Placing the proper entry matting at entry points is another quick and inexpensive preventative measure.   Tracked in soils will quickly deteriorate the condition of carpet, laminates and other flooring materials.   For the interior, try to use rubber backed matting; avoid using vinyl backed mats as they may discolor the floor.   Even the cheapest mat will remove some of the harsh elements that will dirty up your home.  Scrapper or bristle type mats are ideal for the exterior and fully effective interior floor mat should be long enough to accommodate 5-6 steps.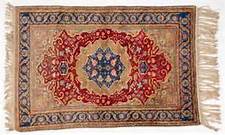 Closing up your home for the winter months will trap in many types of soils, germs, pollutants and other toxins. Air flow will bring in more while increasing heating bills so seal up those gaps. Rotate wool area rugs to avoid sun fading and traffic patterns.   Having your carpets and fabric upholstery professionally cleaned and applying protector will give you a fresh start and prevent early replacement of these big ticket items.