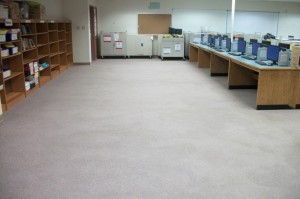 There are many reasons for having carpet and upholstery cleaned but the transition from summer to fall brings several factors into consideration.   As in most areas of Pennsylvania, students in the Hazleton and Berwick Area School Districts will be returning to school this week.     While recently cleaning carpets at the 9th Grade Center of the Hazleton Area High School, I realized that I was doing more than just cleaning rugs.   I was actually performing 3 different jobs; presenting, protecting and preventing.
Presentation – the manner in which something is shown, expressed, or laid out for other people to see.   
This time of year marks more than the start of school.   Very soon the "Holiday Season" will be upon us.   Halloween, Thanksgiving, Christmas, New Years and other traditional holidays will soon find us inviting guests into our homes and businesses.    The appearance of these areas presents an image of your habits, your attitude and your professionalism.
Using the start of school as an example, imagine being a parent bringing your son or daughter to orientation and finding the commercial carpeting filthy, stained and terribly worn.   Now imagine having some guests come over to your facilities and witness the same conditions.   Presentation sets the tone of how others see us.   With increased traffic in our dwellings and places of business this time of year, "what image are you presenting"?
Protection – something that prevents somebody or something from being harmed or damaged.
The hustle and bustle of the coming holidays and colder weather will no doubt bring increased traffic to interior areas.   As guests, patrons and neighbors come to visit or shop, floor coverings need to be properly cleaned and protected or they face a premature demise.
Having cleaned the same school's carpets for over 7 years proves that professional cleaning and maintenance of carpets can extend the life of your investment.   Subjected to heavy use, over the years we have removed gum, tar, food and other unknown substances.   The commercial grade nylon carpet is still in "very good condition and is far from replacement"!
Particles of soil embedded in the face yarns of carpet act like tiny pieces of sandpaper.      Motion and pressure from foot traffic cause these particulates to start grinding away at carpet fibers.   Failure to remove these soils on a regular basis will contribute to early replacement.    Cleaning your carpets and other types of floor coverings now will pay dividends in the future.   An application of carpet protector like Scothgard or Dupont Teflon can also aide in the protection process and extend the useful life of textiles.
Prevention  –  an action or actions taken to stop somebody from doing something or to stop something from happening
The cold and flu season is on its way and nasty, uncomfortable symptoms will soon descend upon some of us.   Cleaning carpets for health reasons versus for aesthetics is very important.   Your carpets, rugs and upholstery can harbor soils and other foreign substances that cause respiratory issues and infectious diseases.
"According to many IAQ experts", the biggest problem with carpets may not be new carpet emissions at all. Once installed, a carpet acts like a filter for anything in the air, trapping particulates and pollutants. Anything carried onto a carpet on shoes or wheels can also become lodged in it.   View the full article.
Statistics provided by the Center for Disease Control (CDC) indicate that 40% of children aged 5–17 years missed 3 or more school days in the past year because of illness or injury.    Visit the CDC website at http://www.cdc.gov/healthyyouth/infectious/index.htm for useful tips on disease prevention, statistics and data.
Services Etcetera Carpet & Upholstery Cleaning is an IICRC/Clean Trust certified carpet cleaning firm that has been serving Northeastern PA for over 23 years.   The friendly and well trained staff can address all of your cleaning needs with a free, no obligation estimate.